Name
Waanzin
Meaning
Madness (wazimu) (Swahili)
Species
Hyena
Affiliation(s)
The Hyenas
Close Relations

Adopted daughter of Ed, friend of Kizazi, friend of Kila, Kitu, and NaZaidi
Waanzin is a hyena, the adopted daughter of Ed, and the close friend of Kizazi (Kiara and Kovu's son).
After her mother died, Ed took Waanzin in (Shenzi was tolerant). She is the one of the secondary protagonists in my (Ladybernard's) fanfiction, Lion King 3: Hyena Rules. She is friends with Kila, Kitu and NaZaidi, and she is also their adoptive cousin. She may play a minor role in Upelelezi's Journey, or, at least, be mentioned.
Personality
As a cub, Waanzin developed Ed's sense of humor, laughing madly at whatever she found funny (or kind of funny, or amusing, or mildly interesting). She was far kinder than the other hyenas, easily befriending other hyena cubs and even other animals, such as Kizazi (and seemingly Kumbuka). They met when he stumbled into the Outlands one day, where the hyena's had moved to after Zira fell off of the cliff.
Backstory
Waanzin's mother died of starvation when Waanzin was just old enough to eat meat. The rest of her clan had died out, and she was the only one left alive. She managed to survive long enough for Ed to stumble upon her. Waanzin was brought back to Shenzi's clan, and Shenzi took pity on the cub, due to Ed wanting to keep her. She later made friends with Shenzi and Banzai's children, Kila, Kitu, and NaZaidi.
Appearance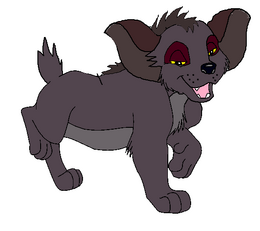 Waanzin is a darker color most of the hyenas in her family, with the exception of NaZaidi, who's fur is even darker, and more purple. Her mane is spikier than most of the hyena's manes, and her nose is very dark blue, almost black. Her spots are very faint, and only seem to appear around her hindquarters. Waanzin somewhat resembles Shenzi, because of her bangs, but they're much shorter. Her eyes are bright yellow and very large. She has huge, batty ears with two tears in one of them, but her most noticable features are the freckles on her thick muzzle, that look very much like Kizazi's freckles. To sum it up, Waanzin looks a bit more like a bat than a hyena and has a slight resembulance to her best friend (this is more for effect than any other reason).
Gallery
Ad blocker interference detected!
Wikia is a free-to-use site that makes money from advertising. We have a modified experience for viewers using ad blockers

Wikia is not accessible if you've made further modifications. Remove the custom ad blocker rule(s) and the page will load as expected.