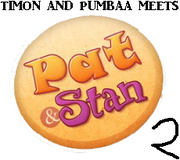 Timon and Pumbaa meets Pat & Stan 2 is a crossover fan-fiction written by MarioFan65. It serve as the sequel to the 2013 fan-fiction story, Timon and Pumbaa meets Pat & Stan.
Characters
Timon (the main protagonist)
Pumbaa
Ma
Uncle Max
Pat (The tritagonist)
Stan (The secondary tritagonist)
Monzo (minor)
Della (minor)
Professor Chi-Chi
Emily
Stuart
Stephanie
Lili
Momo
Aunt Martha
Simba (minor)
Bunga (minor)
Riptail (minor)
Iron Joe (minor)
Meekon (minor)
Brutox (the main antagonist)
The Selfish Meerkat (the secondary antagonist)
Nala (mentioned)
Kiara (indirectly mentioned)
Shovel Knight (mentioned)
Rayman (mentioned)
Pac-Man (mentioned)
Batman (mentioned)
Spider-Man (mentioned)
Chapters
Chapter 4: Headquarters Breakout
Chapter 5: Field Trip
Chapter 6: TBA
Chapter 7: TBA
Chapter 8: TBA
Trivia
Brutox from the Pat & Stan episode "Super Loser" appear as the main antagonist.
When Aunt Martha mentions "He was a material arts fighter, a blue fox and a blue knight." refered the roles of Sean Schemmel, Goku from Dragon Ball Z, Lucario from Pokémon and The Blue Knight from Mew Mew Power, even though Sean Schemmel played these roles aside from Stuart.