Thorn
is a lion OC that belongs to
MacBarrPup
. He's my first lion OC so it's okay to tell me if I did a bad job.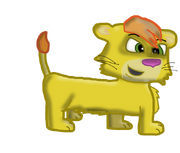 Appearance
He is a yellow lion cub.
Personality
He's rambunctious and sometimes mischievious. He basically doesn't know when not to help.
Bio
Thorn is one of Kion's cousins.
Crush
None yet. Open for suggestions.
Trivia
He's my first non-PAW Patrol-related OC.
His official birthday is July 11, 2017.
Ad blocker interference detected!
Wikia is a free-to-use site that makes money from advertising. We have a modified experience for viewers using ad blockers

Wikia is not accessible if you've made further modifications. Remove the custom ad blocker rule(s) and the page will load as expected.