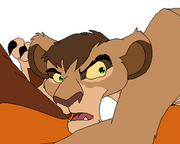 Shreeka is an original character made by 101dogscc on deviantART.com. She is the daughter of Vitani and an unknown male lion. She also has a younger brother named Sku.
Appearance
Her appearance is light tan with a brown hair tuft and neon green eyes. 
Personality
Her current personality is unknown.
Goals
Her goals are to kill Simba and rule the Outlands. In an opposite story, she went to kill Simba, but something held her back.
Gallery
Ad blocker interference detected!
Wikia is a free-to-use site that makes money from advertising. We have a modified experience for viewers using ad blockers

Wikia is not accessible if you've made further modifications. Remove the custom ad blocker rule(s) and the page will load as expected.