Princess Sarabi
is the daughter of Shujaa and Kiara, appearing as a side character in
Return to Pride Rock
and the main protagonist in
The Path of Honor.
Appearance
She has grey fur, a black tailtip, dark red eyes, a cream underbelly and a brown nose.
Personality
Sara is boastful and wild-hearted and is constantly seeking new adventures. She is also very headstrong, and she possesses a strong desire for independence and self-sufficiency.
She is also described as warmhearted and affectionate. She is also very cheerful, always seeing the best in others and looking at the positive side of situations. 
As an adolescent, Sara is more serious, but also keeps her laid-back, wild-hearted, headstrong and affectionate side. While given independence, Sara is more focused on getting out of the shadow of her namesake. 
As a Future Queen, Sara is aware she needs to be presentable to appeal to the broader kingdom, but has no real desire to rule.  
Abilties
Being the daughter of Shujaa, Sara can also see and hear The Kings of the Past, great or fallen. Despite having these abilities, they have yet to manifest in the Princess except when Shujaa tells Mohatu to contact her. Due to The Great Kings being able to do supernatural abilities, Sara is capable to summon them for a boost of her strength, speed and durability, among other things, but due to her being so young, she has not discovered this.
Friends
Best Friend: Makini
Rafiki
Bunga
Fuli
Beshte
Ono
Vitani
Tiifu
Zuri
Family
Mother: Kiara
Father: Shujaa
Grandparents: Simba and Nala
Uncle: Kion
Great-Grandmothers: Sarafina and Sarabi
Great-Grandfather: Mufasa
Great-Great-Grandparents: Ahadi and Uru
Great-Great-Uncle: Scar
Great-Great-Great-Grandfather: Mohatu
Voice actor
Return To Pride Rock - Francesca Capaldi
The Path of Honor - Taissa Farmiga
Trivia
She is named after Sarabi.
She is referred to as Sara.
Picture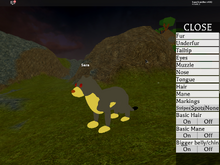 Ad blocker interference detected!
Wikia is a free-to-use site that makes money from advertising. We have a modified experience for viewers using ad blockers

Wikia is not accessible if you've made further modifications. Remove the custom ad blocker rule(s) and the page will load as expected.