Rotte is a lion cub in my (Ladybernard's) fanfiction, Lion King 4: Upelelezi's Journey (Page).
Appearance
Rotte has a light, milky, pink-ish coat, and a pure white underbelly. He has a gold-tipped tail, as well as pink paw-pads. Rotte has the nose and claws of an Outlander, as well as light brown ear-rims, like his mother, and royal purple-blue eyes. Also, Rotte has a little gray head-tuft. This, along with his tail-tip being gold, suggest that his mane will be bi-colored, although it might just be something he will grow out of once he grows a bit. In many ways, Rotte resembles his older brother, Lekkers.
Personality
Rotte is only a very young cub, and his personality isn't gone into in detail, but it can be assumed that he is somewhat shy and calm, judging by his picture.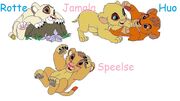 Ad blocker interference detected!
Wikia is a free-to-use site that makes money from advertising. We have a modified experience for viewers using ad blockers

Wikia is not accessible if you've made further modifications. Remove the custom ad blocker rule(s) and the page will load as expected.