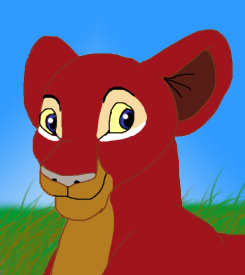 Manzi is Tanari's daughter, Neona's sister, and best friends with Ruka, Shani, and the orphan Garoe as found in Nala15's fan-fiction Lord of the Plain. She is a maroon, spunky cub with blue eyes and a brown underbelly and muzzle. Manzi also has an excellent sense of humor and the ability to make friends easily.
Lord of the Plain
(coming soon)
Gallery
Ad blocker interference detected!
Wikia is a free-to-use site that makes money from advertising. We have a modified experience for viewers using ad blockers

Wikia is not accessible if you've made further modifications. Remove the custom ad blocker rule(s) and the page will load as expected.