I adopted Malick from Chisel give her credit for his appearance
bio
there's not much about his bio, his mom and dad died in a fire, he was dramatized bye it, and that caused him to be really shy, and bit aggressive.
He then got attacked by hyenas just trying to save his little brother,he got a como from all of the pain making his little brother Auka think hes dead.Auka got adopted by one of kion kiara and kopas cosiuns. Malick ran away and was never seen for a few years and when he fully grew his main he came back.
personal
hes very shy and quiet, if he doesn't even knw you he will fight back when threaten, he dose have a nice side tho, he doesn't really like to sing, and doesn't get along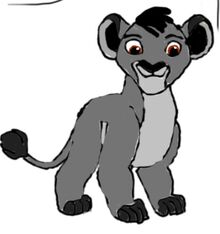 with bunga. he is very close to kion, Manchie and Rocky, and is very nice to them.
appearance
hes grey and black, her has brown eyes with a black, paws and tail and bangs and his ear rimes too. he has a light grey body, with a white grey muzzle and under belly.
Trivia
TBC
Ad blocker interference detected!
Wikia is a free-to-use site that makes money from advertising. We have a modified experience for viewers using ad blockers

Wikia is not accessible if you've made further modifications. Remove the custom ad blocker rule(s) and the page will load as expected.