Welcome to
The Lion King Fanon Wikia!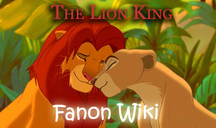 Welcome to The Lion King Fanon Wiki! A free web source for fanfiction related to The Lion King. All fiction pages are subject to editing made by the creator, so don't start editing on someone else's page; instead, create your own! However, all animal and canon pages are free for anyone to edit!
Want some help? Need some advice? Look no further! At the
New The Lion King Fanon Wiki Forums
you can ask for help, or just to say "hi" to the community, and get a quick response

from a
Royal Lion
or any other user!
If you'd like assistance for any other additional help, you may communicate live in the Pride Lands! What are you waiting for? Go ahead and start! We'll be with you every step of the way!
Okay, we haven't given enough out! But, first, one thing. If you are new, or old, to our wiki, please
read our
rules page
. Also, check out
the activity of our wiki
(by clicking wiki activity in the header) to learn more about whats happening behind the Wiki.
Thanks ever so much for your contributions!
- The Lion King Fanon Wiki Staff.
We currently have 2,133 pages written and illustrated by our team of Lion King fans- so contribute, share and add your fiction!

Just please follow our rules!.

• Community • Characters
User of the Month
Ginnyharry4ever has been selected as the user of the month! Congratulations!
Featured Animal
Birds
Birds are characters featured in Lion King media. To see what next month's featured animal will be, check out Animals of the Month.
Other Sites

A wiki that contains any information relating to The Lion King.


A wiki dedicated to theories and possibilities.


A wiki that contains any information relating to The Lion Guard.
Ad blocker interference detected!
Wikia is a free-to-use site that makes money from advertising. We have a modified experience for viewers using ad blockers

Wikia is not accessible if you've made further modifications. Remove the custom ad blocker rule(s) and the page will load as expected.