These cubs are Jasiri and Kion cubs.
They belong to DodgerxRitaJackiexRyan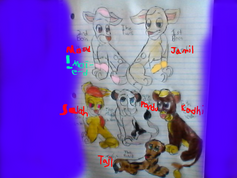 personality
Salah(Godness) : She's very sweet and loving , she love to play with her best .she's loves to chase anything small. 
Kadhi(judge wise person) he's adventurous , and very kind to others and has a big fear of of mean outlander,and snakes.He love story's and Rafiki,hes so joyful and quiet he's love to sleep and sun bath when he gets the chance.
Pandu(Artistic) : he's very thought , but is kinda nice he is very feace like his dad , and loves to reseal .
Taji(Crown): he's scared that pandu is going to kill him , since he's not that strong since he's the runt the runt. He's very sweet and loving and cocky sometimes.  
Jamil(Handson): hes the first born and twin brother of Moed who is his sister, He is smart and loves to  chase birds.Hes so up beat.Hes a bit hot headed.Hes loves to race and play all day long.
Moed : The second born , She's is best friends with Misuli ,Haraka her lion guard team,Her borther Jamil.she is very Adventurous and fierce , and loves to sing, she acts way like the first born, shes very mature for what ever age she's in she can be cocky,and grows a HUGE crush on Misuli.
appearance 
TBC

triva
Pandu(Artistic),Taji(Crown) and Kadhi(Wise person)are the only ones that grow a mains but Pandus main comes in 3 months after  Taji and then Kadhi.
there was actually was one more cub but I change it to where they later adopted a little cub named Mahano.
they all get along great with Misuli and Moed falls in love with him.
Jamils original name was mooi wich in Africa means Handson but in sawhili Jamil means Handson so he's pretty handson lol
Jamil and Moed are twins.
Taji is the runt of the first litter and then becomes a middle child.
Moed is pronounced as Moi-e-d (E as in eeeee)
Moed gets her own lion guard and dosent roar she howls.
Read her lion guard here
.Taji gets most of naturefrom Kopa an says scar is big fat creep
.Kono is there youngest baby brother
.
moed 
TBC
The stories
gallery
Ad blocker interference detected!
Wikia is a free-to-use site that makes money from advertising. We have a modified experience for viewers using ad blockers

Wikia is not accessible if you've made further modifications. Remove the custom ad blocker rule(s) and the page will load as expected.