Lekkers is a lion who belongs to the Verlig Pride, and one of the main protagonists in my (Ladybernard's) fanfiction, Lion King 4: Upelelezi's Journey (Page).
Appearance
Teenager
Lekkers is a milky cream colored teenage lion, with an off-white underbelly. The forming mane on his head, neck and chest are golden, as are his elbow tufts and tail tuft. He has cheek tufts, and his inner ears are light brown. Also, he has large, round paws with colored toes. Lekkers has the angular nose of an Outlander (as well as the lanky build of one), but the fully sheathed claws of a Pridelander. His nose is a very bright pink (much like Neo's, although they aren't related) and his eyes an unusual, but beautiful, mint color. Many of these traits he inherited from his mother, Kutambaa.
Young Adult
Coming!
Personality
Teenager
Cooming!
Young Adult
Cooming!
Early Hyena Rules Design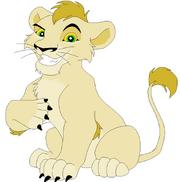 During a
very
early draft of
Hyena Rules
, Lekkers was planned to appear (in a sence). He was the character "Tabasamu", a cub who never even made it off of the drawing board and into the writen draft.