Kenda
Name

Kenda

Meaning

Ninth

Gender

Female

Species

African Lion

Creator

Greatwhinter707
History
Kenda was born to Kiara and Kovu along side her brother Hassian. She grew older and roughhoused a lot. She was second to the throne because Hassian was the older sibling.
Once, she and her friend Lui discovered Kenda had the roar of the elders. They rushed to Kion and told him about it and now Kenda is who she is today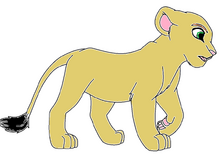 Ad blocker interference detected!
Wikia is a free-to-use site that makes money from advertising. We have a modified experience for viewers using ad blockers

Wikia is not accessible if you've made further modifications. Remove the custom ad blocker rule(s) and the page will load as expected.