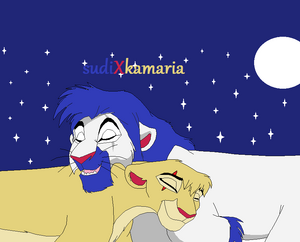 Kamaria
(meaning "Like the moon") is a fanon character.
Appearance
Kamaria has blonde fur, red scar, dark blue eyes, pinkish red ears and nose, blonde fur tuft, light blonde coloured toes, muzzle and underbelly, brown tail and blonde eyeshade/eyering.
Personality
Kamaria is a shy, sweet, charming, calm and sometimes aggressive.
Relationships
Sudi (mate)
Nia (brother)
Unnamed mother and father
Uru (grandmother)
Ahadi (grandfather)
Gallery
Ad blocker interference detected!
Wikia is a free-to-use site that makes money from advertising. We have a modified experience for viewers using ad blockers

Wikia is not accessible if you've made further modifications. Remove the custom ad blocker rule(s) and the page will load as expected.