Ashanti

Name

Ashanti

Meaning

Thank you (var. of Asante)

Gender

Female

Species

Hyena

Affiliations

Heshima Clan

Creator

Janja-Hodari
"Leftovers? Awww! I've had leftovers all week!"
—Ashanti to Janja, The Lion Guard: A New Era

Ashanti is a young female hyena in The Lion Guard: A New Era.
Appearance
Ashanti is a grey spotted hyena with a fluffy two-toned mane similar to that of her mother, Jasiri. She has blue eyes, and has a somewhat muscular build like Janja. Many of her facial features also resemble those of her father Janja's.
Personality
Ashanti is a very playful hyena. She enjoys spending time with her father, Janja. She also seems to take after her father's ravenous appetite and she holds great distaste for leftover meals. Ashanti also expresses the desire to someday be a protector of the Pride Lands like Kion, indicating that she hopes to one day be a member of the Lion Guard.
History
Ashanti is the first born daughter of Jasiri and Janja. She makes her debut and only appearance in the final chapter of The Lion Guard: A New Era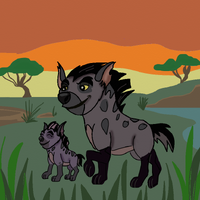 Relatives
Jasiri (mother)
Janja (father)
Chuki (grandmother)
Ad blocker interference detected!
Wikia is a free-to-use site that makes money from advertising. We have a modified experience for viewers using ad blockers

Wikia is not accessible if you've made further modifications. Remove the custom ad blocker rule(s) and the page will load as expected.